THE DAILY NEWSLETTER
Good morning!.😊 A week-day without market is hard to take. But hey! We'll never leave you alone. Infact, this might be one of those rare days when we share some detailed content. Read through. You have all day!
Know what you own, and know why you own it.
- Peter Lynch
| | | |
| --- | --- | --- |
| NIFTY | 12,780.25 | + 89.45 |
| SENSEX | 43,637.98 | + 280.79 |
| GOLD | 50,922.00 | 0.00 |
| CRUDE OIL | 3,007.00 | 0.00 |
| | |
| --- | --- |
| | PVR unveils theaters PVR Sahu and PVR Utsav in Northern India. |
| | The Great Eastern Shipping Company Limited (G E Shipping) signed a contract to buy a secondhand Capesize Bulk Carrier. |
Ambani led Reliance Retail Ventures has bought 96% stake in online furniture retailer Urban Ladder.
Yes, it's Reliance making the headlines again. This time it's another huge acquisition, one that'd challenge many e-commerce players in the Indian market. 
Urban Ladder "Relianced" 
In another move to stamp its growth in the e-commerce sector, Mukesh Ambani led Reliance Retail Ventures has bought 96% stake in online furniture retailer Urban Ladder. 
The acquisition is sure to ring warning bells in the heads of fellow e-commerce giants Flipkart & Amazon. 
The conglomerate aims to connect neighborhood stores to Reliance for online deliveries of groceries, electronics, and apparel in order to emerge as a potent competitor to current e-commerce leaders.
Bottom line: Steady but strong steps by Reliance to assert its dominance on the sector. If all goes right, including the Future-Amazon row, we could be on the brink of witnessing a market led by Reliance. 
Trump & false claims; A Better Love Story than twilight.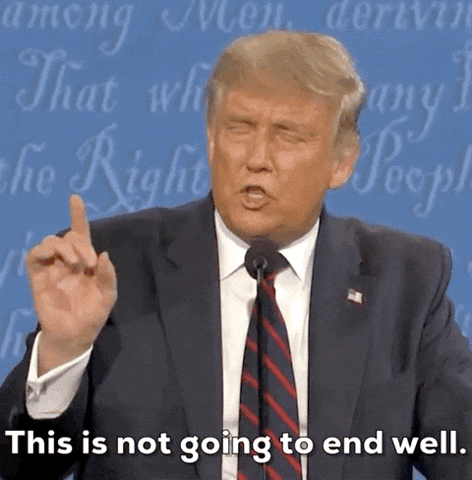 Donald Trump is the adult version of the reluctant, sad little 6 year old kid who won't get down from the horse ride in carnivals. The man still refuses to acknowledge that Biden "trumped" him and continues to go  on his Twitter sprees claiming the election was rigged. 
"Stop The Count" 
Even after announcement of election results, Trump is still going over his baseless vote fraud claims. 
He tweeted, "He won because the election was rigged," and goes to say that his lawyers are attempting to prove it in court. According to the majority of election officials, the band 'One Direction' regrouping has more chances than Trump's lawyers actually proving any fraud. 
The Consequences 
Trump's refusal to concede is affecting Biden's preparations, with transition funds unreleased and national security briefings not given.
Trump is basically a man-child but you know what, 5-6 years down the lane, when Biden is being very diplomatic and president'y', a large section of us would miss Trump's antics because if one thing that the man has provided the world with was very quality meme materials.
Bottom line: Not many people can grab media attention like Donald Trump. Narendra Modi might be scared of the flashlights but Trump basks in it.
BPCL Privatization; Reliance Favorites.
The Government who had put up its entire stake of 52.98% in Bharat Petroleum Corp Ltd (BPCL) for sale has finally set Nov 16, 2020 as the deadline for the preliminary expression of interest (EoI).
Vaning Interests
Several behemoths of the industry had been linked to the firm including the likes of Aramco, Total, BP plc etc but it seems unlikely that one of these giants might actually move in for the stake, owing to the $10 billion price tag. 
The package includes the ownership of BPCL's three refineries – Mumbai, Kochi in Kerala and Bina in Madhya Pradesh – 17,138 petrol pumps, 6,151 LPG distributor agencies and 61 out of 256 aviation fuel stations in the country.
Ball's in Reliance's Court
Amid the confusions, arise one familiar name - Reliance. Although tight lipped about any bid so far, they are touted as favorites in the race for BPCL and there's a clear reason. The firm had, very recently hired former BPCL chairman Sarthak Behuria, and former Indian Oil Corp (IOC) chairman Sanjiv Singh. Not a bad reason!
Eyes On The Prize
Other prospective bidders include Russian oligarch Rosfnet, Abu Dhabi National Oil Co (ADNOC) and mining billionaire Anil Agarwal. 
The bidding will be a two-stage affair, with qualified bidders in the first EoI phase being asked to make a financial bid in the second round. Public sector undertakings (PSUs) are not eligible to participate in the privatisation bid.
Bottom Line: Ambani is sure to consider his options and given his ambition, it's likely he will put in a bid but with Reliance highly concentrated on taking over the Indian consumer market, it won't be a surprise if they don't place a bid.
Vodafone Idea (VI) planning to raise tariffs 15-20% by end of 2020 or early 2021.
First batch of Sputnik V vaccine will arrive at Kanpur medical college for Phase 2, 3 trials by next week.